Whether it's for a girl's night in, gifts for family, or party for one you can't beat these in-home spa necessities.  I, like most women, luuuuuv to pamper myself.  However, I don't really do it at home.  Lately, I've been going to the spa on occasion or while on vacation for a little bliss.
But it's cheaper to get your calm on home.
However, before marriage and kids I actually used to run myself a warm bubble bath, light some candles and play some jazz or R&B music in the bathroom.  I even had a glass of wine, I think somewhere close by.
But those days are behind me.  Or at least until hubby and I build our dream master bathroom off of our bedroom with absolutely no access to the kiddies.
Here are a few home spa necessities you can make yourself for next to nothing.  All you need are your favorite essential oils, molds, jars, and if you want to really make it look fancy, a little ribbon and a few labels.
1. DIY Sugar Scrub Bars ~Adventures in Coupons – This recipe is so easy and it has the ingredient of the year in it.  Coconut oil!
2. Honey Facial Mask ~Carolyn's Homework – This looks very simple to make and I'm sure you have the ingredients already in your cupboard.  This would make a great birthday or holiday gift.
3. DIY Homemade Immune Loving Bath Fizzies ~Live Simply – These look a bit labor intensive, but the result looks devine and curious kids love them.
4. Homemade Gardeners Soap ~Savings Lifestyle – This recipe has to be therapeutic! It has good 'ole Epsom salt in it.
5. Easy Homemade Body Wash ~Our Small Hours – The picture alone makes this mixture look so silky smooth.  However, I think I'll use a pear or berry scented oil in place of the citrus.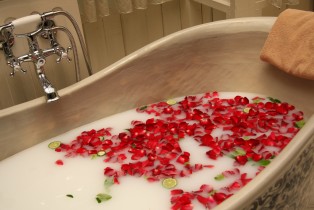 6. Homemade Milk Bath Products ~Living on a Dime – Sitting in a soothing bath at the end of the day is all a mom needs.  Sitting in a bath of soothing oils and milk will make all of your worries and stress disappear, but make sure the kids are in bed before you begin.
7. Yellow Sun Bath Bombs ~Savings Lifestyle – The key ingredient here is Shea butter which makes the world a better place. If you're a girly girl and rock a mean manicure, be sure to use gloves when preparing your bath bombs.
8. Homemade Lavender Bath Salts ~Money Saving Mom – This looks so easy to make you can probably give this to your kids to make for you as a Mother's Day gift. Yes, it's that easy.
9. Gingerbread Sugar Scrub ~Clumsy Crafter – The original creator of this says if you have a bowl and a spoon, you can make this. I personally like the jars and after reading the ingredients, you may want to have a batch of gingerbread cookies nearby.
10. DIY Heart Bath Bombs – The Suburban Mom – This is perfect for not only Valentine's Day, but for your love all year round.  Who doesn't like a pink heart?
Mom Blogger turned Stay-At-Home-Mom Strategist at www.KimberlyLThomas.com. Reality TV junkie. Wife. Moscato. Mother of 2. Loves Mondays and dancing and singing to 80s/90s music.